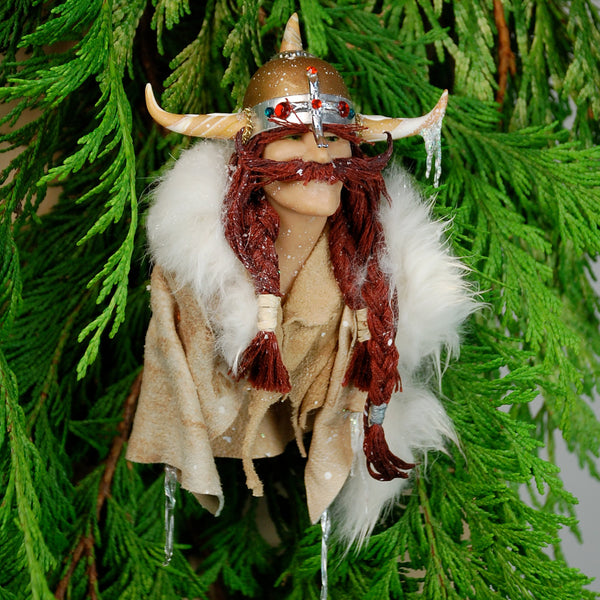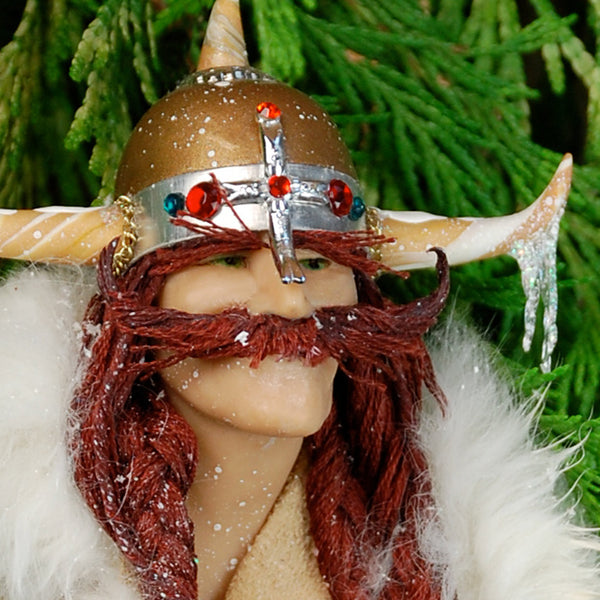 Viking - Eric the Red
It was the Vikings who first introduced the idea of drinking games rather than war for settling disputes. This tradition spread to the holiday season and was embraced by fellow clansmen in most northern countries. Orion spotting, a common game, could only be played from rooftops at night. It was here that Santa first met these Norsemen and his tradition of entering houses through the chimney was initiated. A measure of honey, hops and assorted grains goes into their favoured brew...or Taklagsöl...meaning 'roofing ale'. Over indulging will cause instant dizziness and can leave you head first in the snow bank.
This one-of-kind handcrafted collectable starts with an original Ken Fedoruk sculpture. Having already pictured the finished character in my head I move to applying the costume. In this case I used leather and fur. Then the hair is made with cotton embroidery thread. The armour is fashioned from Fimo, painted and trimmed with chains, bits of vintage costume jewellery and Swarovski crystals. The finishing touches are richly painted eyes and snowflakes. The sculpture is about 7" long fits in the palm of your hand. The frame is made of natural cork and oak, approx. 11' x 7" and has hardware for hanging. Each kenfolks sculpture is a one-of-kind creation and comes with an artists signature of authenticity.