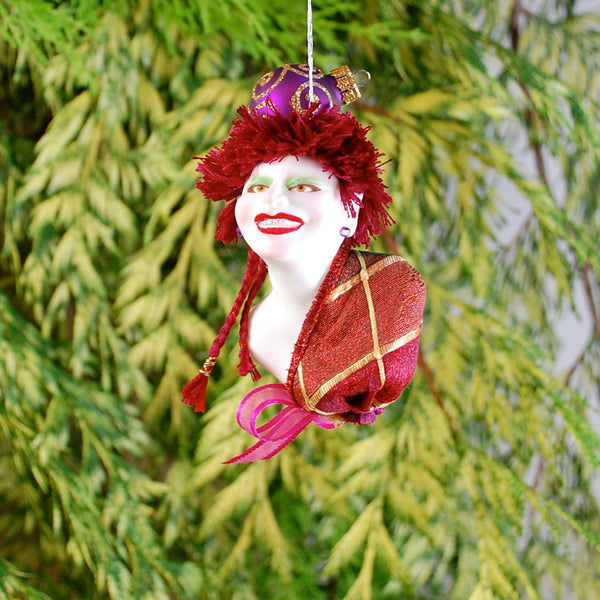 Santa's Trimming Elves
Santa's Trimming Elves
Interior or exterior, these busy detailers focus strictly on anything to do with decorating or trimming. Trees, windows, mantles, stairways and tabletops are only a few areas to which these imps apply their festive flare. Their attention to color and consistency is impeccable and of course, they can draw from an endless supply of decorations. Working in teams of three, they act quickly and efficiently to set up any space. It is customary for a trimming elf to hum while working…as this energy gives extended life to fresh cut pine boughs and colored light bulbs.
Trimming Elves are guaranteed to make you think of the magic of a well decorated environment. This handmade collectible starts with a resin cast of an original Ken Fedoruk sculpture. Having already pictured the finished character in my head I move to applying the fabric for the costume. In this case I used rich and warm satin fabric, ribbon and Swarovski crystals. The hair is made with cotton embroidery thread, and atop her head is a Christmas bauble that glitters in purple and gold. The finishing touches are twinkling eyes and rosy cheeks. The sculpture is about 5" long and fits in the palm of your hand. Each Kenfolks sculpture is a one of a kind creation.
Every Kenfolks® character begins as an original polymer clay sculpture by the artist Ken Fedoruk. The sculpture is molded from silicone then cast using the finest quality artist resin available. This process captures all the detail of the original work while providing durability for any delicate components. These limited edition replicas are decorated entirely by hand and each character is exquisitely adorned to create a unique one of a kind Christmas art keepsake.
Ken's attention to detail is what sets them apart, resulting in highly textured characters. He uses the finest materials available including real fur, Swarovski crystals, antique jewellery, top quality fabrics/leather and enameled paints. Often each element is made by hand...from top hats and knitted scarfs to candy canes and toys in a basket. His unsurpassed dedication to quality has culminated after years of creating these wonderful keepsakes. Built to last, these charming collectibles can be yours to cherish for generations.
Limited edition
Collectable number - TE0904