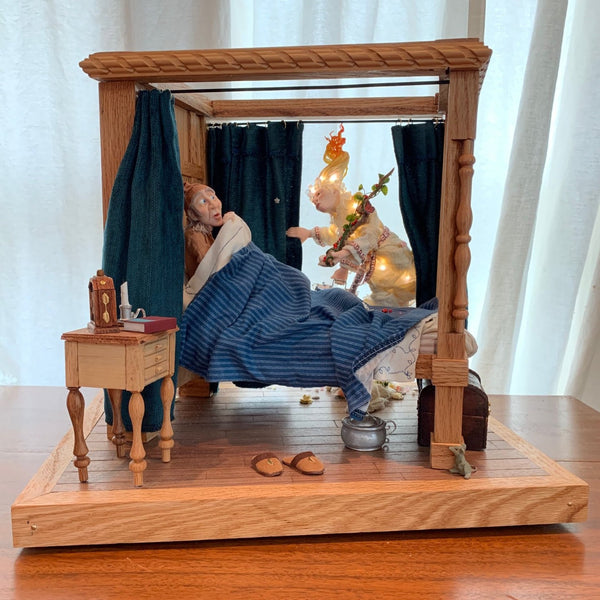 Ebenezer Scrooge and Ghost of Christmas Past
Made to order - Please allow 3-4 weeks production time.
Charles Dickens - A Christmas Carol. I've endeavored to capture the Scene of Scrooge on Christmas day being visited by the Ghost of Christmas Past. I know the story by heart and love each and every character. In this maquette I wanted to portray the emotion of each character. Scrooge's terrified face and body expression is alive with fear and a tinge of doubt. While the ghost is presenting itself in the many moments of Scrooge's past. The shapeshifter is a flame, a light, a man, a woman.... The dynamic energy created in this piece is sprinkled with a bit of wonder and magic. 

The first of 3 Spirits is made entirely by hand and with exquisite detail and credit goes to my wife Joan for building the bed, side table and platform. I incorporated mini lights to the ghost which are battery operated by a switch cleverly and discreetly concealed in the headboard. The characters are my original sculptures made with polymer clay. Faces are hand painted. Clothing and fabrics are rich in texture and smartly adorned with Swarovski crystals, delicate ribbons and baubles. The platform has built-in bearing so you can rotate and view the piece from all sides. My signature adorns this one of kind piece of art and guarantees the craftsmanship. Designed to last for generations this small piece of Christmas art will become a family heirloom.
Approximate size: 16.5"x13"x12"
Collection Number: KF179